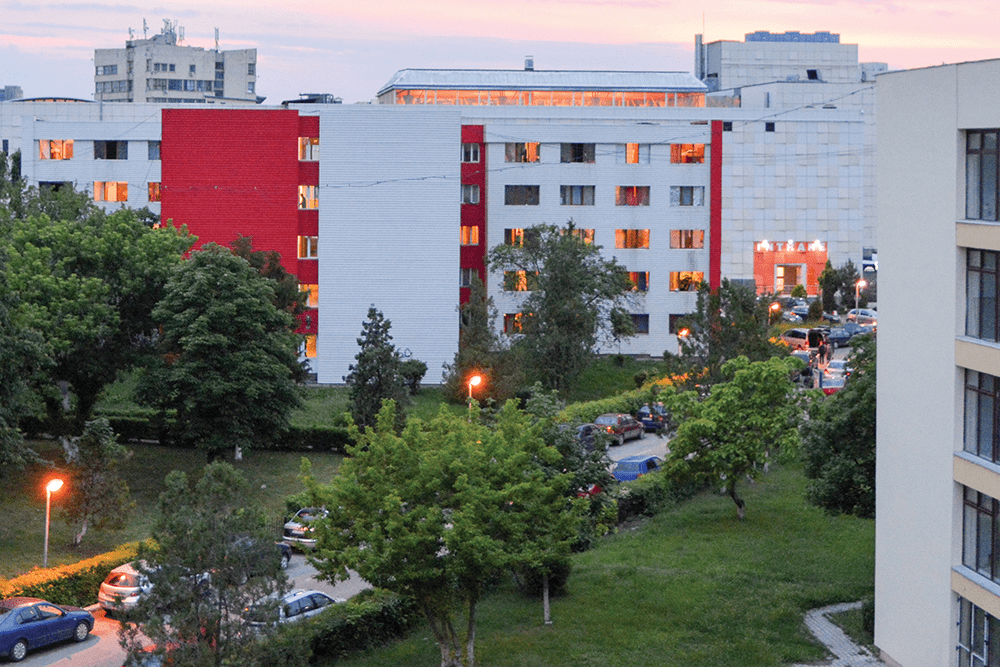 "Tudor" Campus, a "Vatican" in Iasi
"Tudor Vladimirescu" is one of the biggest university campuses in Romania; it is always bustling, it has a certain feel, and it is the heart of the student life in Iasi, a quality acknowledged even by the students of the other universities of Moldova's capital city.
The campus lies on 137,148 square metres, being 14 hectares. The halls of residence first built were T1-2 and T3-4, students starting to be accommodated there in 1969; the last ones were T18 and T19, finalised in 1982.
There are 21 halls of residence on the campus, as well as a cafeteria with the best prices in town, sports halls and fields (among which six outdoor fields, a fitness hall, an aerobics hall, a strength training hall and a team sports hall – for football, volleyball, basketball, tennis) and an on-campus clinic. The campus benefits from state-of-the-art thermal equipment and a big number of residence halls were renovated; they have a total capacity of 8,000 places. All rooms have free internet access and TV cable. Also, every residence hall has it's own study room.
What you also need to know is that "Tudor" has the lowest accommodation fees in the country. In the hall of residence T17, there are 1,080 students accommodated, this being the second largest hall in Romania. There are also 8 on-campus laundries that serve ten halls of residence for free.
In order to guarantee the students' security, the campus is monitored by a high-performance surveillance system with 105 cameras.
Eleven student organisations function on the campus, plus two international level organisations, BEST and AIESEC TUIASI.
Take a virtual tour of "Tudor Vladimirescu" Campus!
The 1/500 scale model was made by two students who got an internship within the vice-rectorate for Student Affairs. The building of the scale model took about one month and supposed a lot of work, many sleepless nights, but also the students' satisfaction of doing something new for the university.